The Worst Things That Can Happen While On Vacation and How to Avoid Them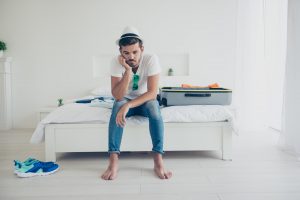 Vacations are supposed to be carefree and relaxing — a getaway from real life to recharge. Unfortunately, not all vacations go as planned. When having fun gets out of hand, vacationers could find themselves in trouble with the law. Or they could fall prey to pickpockets and scammers. While it's important to keep your wits about you in an unfamiliar place, it's equally as important to have fun while you are vacationing. This article provides a list of scenarios that could go wrong on your vacation and how to avoid them so you can get the most out of it. 
Travel Theft
Many travelers fall victim to theft. 10% of travelers have reported their phone stolen, while 9% have reported a credit card stolen. Pickpockets look for the opportune time and place to steal from tourists, which can include:
While asking for money on the street, impersonating beggars;

In crowded areas like bus and train stations;

In areas where you look like a tourist, like museums or tours;

In traditional open-air markets.
Additionally, pickpockets will choose easy targets. These can include, but are not limited to:
Open bags;

Outside pockets;

Pockets on a backpack or bag;

An unattended bag;

Cafe or restaurant tables where people tend to leave wallets. 
It's understandable to be upset and frustrated when someone steals from you. Rather than write it off, consider filing a police report as soon as possible. Even if the police won't catch the culprit, it's necessary to have a police report on file for your insurance company. By filing a claim with them, you may receive compensation for your stolen items. Also, be sure to keep any receipts of what you spent to turn into the insurance company.
Ways to Prevent Theft While Traveling
Luckily, there are ways to prevent theft while you are on vacation. Consider implementing these best practices the next time you are in an unknown country or state:
Always be aware of what you have on you;

Separate your cash into different bags;

Scan any travel documents on your phone;

Do not dress like a tourist;

Don't brag about nice items in public;

Research safe places in and around your destination;

Get travel insurance.
While you may not be able to execute every idea every time, it's important to choose a few that you are comfortable with so you can turn them into a habit whenever you travel. 
Missing Your Flight
Missing a flight can severely delay your travel plans, and most solutions are not quick. Often, people do not give themselves ample time to make it through security before their gate closes its doors. Or, there may be a technical difficulty with the plane that prevents it from taking off. No matter the reason, airport delays can be stressful. First and foremost, it's important to remain calm as you and the airline try to find solutions. 
If you miss your flight, first approach the ticket counter to reschedule it. You may have to pay a fee to change flights, but chances are there is another flight with an available seat. If you missed your connecting flight because the previous plane was late, there is a good chance you can rebook for free, courtesy of the airline. In a worst-case scenario, you may have to pay for a new seat on a different flight. 
How to Ensure You Won't Miss Your Flight
While some situations may be out of your control, there are ways to ensure you won't miss another flight. Consider the following best practices:
Do not check a bag

. This process can add extra time you didn't account for and could hold you up even longer in a busy airport.  

Get TSA PreCheck

. This feature can help you avoid the long security lines.

Check into your flight through your phone

. Many airlines have apps that allow you to check-in 24 hours ahead of time. 

Arrive at least two hours ahead of time

. Depending on how busy the airport is, you may have to arrive even earlier. 

Double-check your flight times

. This will ensure you arrive on-time at the airport. 

Dress for security measures

. This can mean wearing shoes that are easy to take on and off as well as not wearing a lot of layers. Additionally, try to keep all electronics to a minimum in your carry-on so you won't have to take them out. 

Remember to get rid of your liquids before entering the security line

. Not only will this save time, but it will also help you save money since

TSA will throw away liquids over three ounces

. 
By implementing these best practices, you will hopefully never miss a flight again. However, remember that some situations are out of your control, which may leave you needing to buy an additional plane ticket. If this happens, ask the airline if they are willing to send you a hotel or meal voucher for your troubles. 
Bad Hotel Room
Booking through an online hotel service comes with its pros and cons — it can be cheaper, but it doesn't always mean you'll get what you were expecting. You may find out that the hotel is undergoing construction, or is using older or fake pictures to book more rooms. There are many reasons you could be unhappy with your hotel room, including:
Not having enough beds for guests to sleep on;

The beds are uncomfortable;

The hotel is past-due on renovations;

The hotel is in a dangerous area;

The other guests in the hotel are loud and obnoxious.
Often hotels allow you to swap rooms for any of the previously mentioned reasons. Be sure to check with the hotel staff to see if there are any other rooms available. If there are not, you can cancel the remainder of your stay if you give the hotel at least 24 hours' notice. 
How to Avoid Booking a Bad Hotel
While you cannot preview a hotel beforehand every time you book one, there are steps you can take to ensure you avoid booking a bad hotel room:
Research the options

: This can help you choose the right hotel and help you save money. You can consider hotel brand, price, location, room type, and amenities to determine the best choice. 

Read the reviews

: Reviews can be just as beneficial as checking out the hotel in person. You can look up reviews on multiple sites to compare different travelers' stays. 

Weigh the pros and cons

: creating a list can help you determine the best hotel choice. 

Use a trusted site

: Using a reputable site can help you avoid hotel scams and ensure you are getting the experience you paid for. 
All in all, if you end up in a less-than-savory hotel, talking to the hotel staff is your best option. It's important to remain calm and collected while you are negotiating a new room. 
Arrested While On Vacation
Getting arrested is never a scenario that you can plan for. It can be overwhelming to have charges brought against you in an unknown place. Not only is it frightening, but it can also be expensive. Laws can vary from state to state, so it's imperative that you call a criminal defense attorney to help you navigate the situation. 
If you or a friend is arrested in a foreign country, your first call must be to the American Embassy. They can help set you up with a lawyer and contact your friends and family back home about your situation. Then, you should ask an officer for a written statement of your rights to ensure you are aware of that country's laws. Finally, you should try to call any family or friends that can help you out from home. 
How to Avoid Being Arrested While On Vacation
Preventing arrest while on vacation is much like preventing arrest where you live. Some tips to avoid criminal charges include:
Don't drink and drive;

Research the laws of your destination;

Leave weapons at home;

Don't bring illegal drugs or substances;

Don't steal. 
It's important to understand that you may not be able to leave the vacation spot right away after you get out of jail. You may have to go to court hearings to discuss the repercussions of your arrest. Certain states and countries have conditions you must follow if you are released on bail. If you break these conditions, you could go back to jail. However, your attorney can help you navigate the court cases and even appear in court for you.
Essentials Left at Home
There are many important documents and items that you should bring with you on vacation, and forgetting these items can prevent you from traveling or leave you stranded in unknown places. These essential items include:
Passport;

License;

Credit and debit card;

Travel visa;

Travel insurance details;

Travel itinerary;

Lightweight clothing;

Sweaters and jackets;

Undergarments;

Different pairs of shoes;

Toiletries;

Swimsuit;

Socks. 
Many of the above documents are needed to travel to your destination, so you will know right away if you are missing those essentials. However, you may not realize you forgot to pack other essentials until you get to your destination. To be safe, make copies of your important documents to store in your suitcase. Additionally, you can always buy clothing and toiletry essentials when you get to your destination. 
Ways to Remember to Pack the Essentials
Remembering the essentials for every trip can be difficult, as vacation spots differ from one another. Nonetheless, there are ways to remind yourself of what to bring:
Research items needed at your destination;

Research the weather to determine the correct type of clothes;

Pack one category of essential items at a time, like pants, then shoes, then shirts, to ensure you packed everything you need;

Create a list beforehand to check-off items as you pack them;

Prepack, and go through your bags the night before. 
While these tips can help you to remember your traveling essentials, unfortunate circumstances can happen. You may want to plan a spending budget in the event you forgot to pack some essentials or that the weather takes a turn at your destination. That way, you will have extra money on hand and not have to deal with unexpected costs. 
Traveling can be fun, relaxing, and at times, overwhelming. If you find yourself in an unsavory situation on your vacation, remember that the important thing is to remain calm and to use the above tips to help you out of common circumstances. That way, you can make the most out of your vacation.